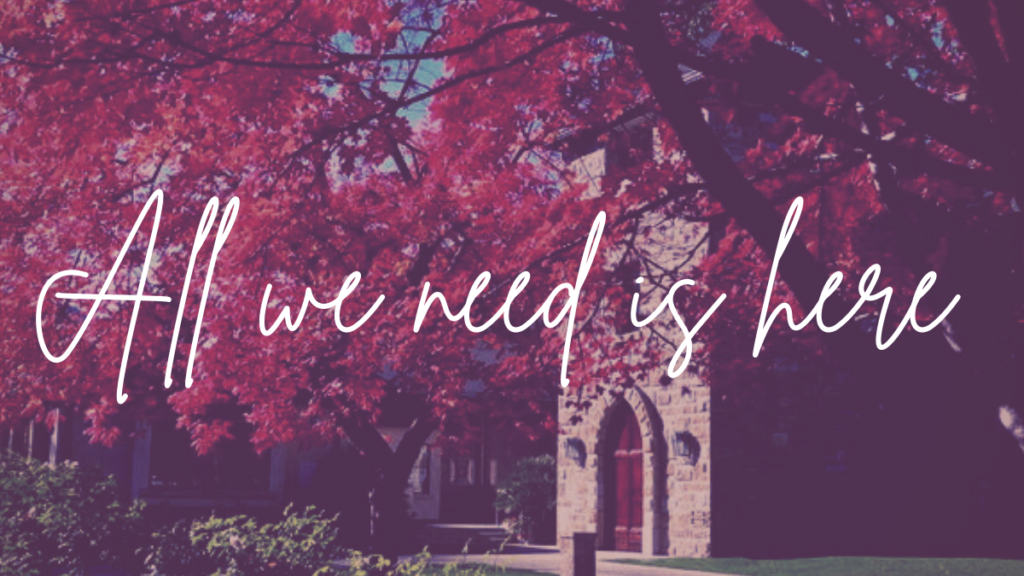 Every Tuesday morning the staff of Grace Church meet for prayer and for ministry coordination. We always end the meeting with a particular song. We stand and sing "All we need is here, here, here; all we need is here, here, here". And we sing it three times. It is not a declaration of our sufficiency as a staff, but of God's ability to provide. We all make our baptismal promises with the words "I will, with God's help". Yet this song says even more than that. It is a confession of faith that our adequacy as a community of faith to do the work God calls us to lies in the Holy Spirit who lives in us, guides, and empowers us. And that God always cuts the suit of God's mission to fit the cloth of God's available people.
That is a foundational understanding of a community built on the promises of baptism. The apostle Paul was unsure of his future as he sat alone in Corinth. Suddenly the Lord appeared to assure him by saying "Do not be afraid but speak; do not be silent for I am with you. ..there are many who are in this city who are my people." (Acts 18:10). On another occasion, as Paul considered his own weakness, God assured him again that "my grace is sufficient for you; for power is made perfect in weakness". (2 Corinthians 12: 9).
Last Sunday in a forum I shared seven characteristics of a baptismal community, as we sought to express them within the Diocese of Iowa during my time there. They too stand upon the assurance that the Holy Spirit active in us all shapes us in the following ways.
Authority for ministry and the giftedness comes from the Holy Spirit, and we all share the responsibility for our life and mission. It is not always the same year after year but has within it a flexibility and adaptability suited for each period of common life and by the make-up of God's people at the time. Decision making reflects the transparency of such an understanding. Since all share responsibility and authority, we commit to being a learning community in practice. There are no foolish questions, and we are willing to risk to learn.
As such the community is built on hope and a sense of belonging and energy. What is possible guides us more than what is missing or lost. We seek to balance our inward vision and outward vision. We see ministry as we gather, and as we scatter. The inward supports the outward, and the outward focus offers reflection for our need for inward growth. We seek to discern and follow what God is already working in the community. And finally, we acknowledge that we are people who function at the place where the cross and the resurrection intersect. As ministers of God's reconciliation in Jesus, we are always facing chaos and working into God's order. Thus, we learn to manage conflict well, and act with respect and openness to one another. We can take risks, and value and pursue the diversity of God's created life. For in the Spirit of God, through each and every one we practice that "all we need is here, here, here; all we need is here, here, here".
+ Bishop Alan