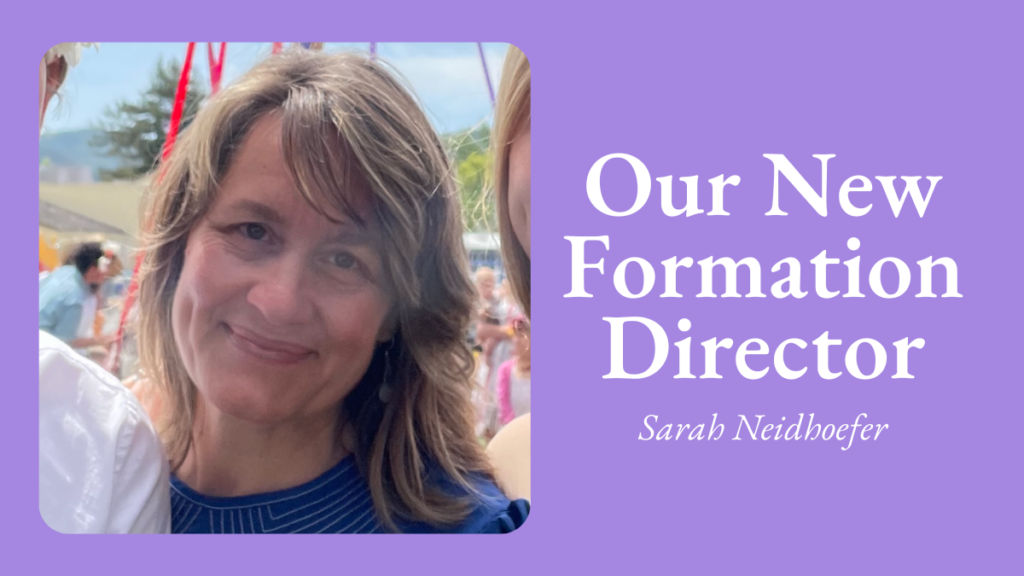 Grace Community,
Last month we informed the Grace Vestry that we had a top pick candidate — our only and obvious candidate! — for the Formation Director position opening up as our beloved Erika Muller transitions out of her position as Children's and Youth Ministries Director this Summer.
So without further ado, we are excited to announce that our very own Sarah Neidhoefer will be taking on this role!
While Sarah has been with us in an administrative capacity for the last two years, she brings over 25 years of experience in ministry with people of all ages, but particularly with youth, young adults, and children. As many of you know, she has the same degree that I do, a Masters of Divinity from Yale. She knows and is known and loved by our community, making this challenging transition of a 17 year veteran Youth Director a little bit easier. She's already here to overlap with and learn the ropes from Erika, making the transition that much smoother.
Specifically, Sarah has been a campus minister at Santa Clara University and Justin Siena High School, a Director of Social Action at St. Mary's College, a catechist in the Catholic Diocese of Santa Rosa, a 1-1 aide in a Waldorf classroom for a child with Down Syndrome, and a classroom teacher at every grade level from kinder to college. Experienced and skilled at adult formation, with a focus on side by side formation for parents of children in catechesis, she is also the mother of four young adults.
You might be wondering, "But who will do Sarah's job if she does Erika's?" Sarah's full-time administrator role includes everything from basic clerical tasks to higher level management and oversight. Sarah will keep the part of her job that corresponds to those higher level skills, and we will hire someone else to do the more everyday office tasks. So she will be half time Administrator and half time Formation Director. We will post that office position soon and hope to have someone in place by early June.
We have had the input of the wardens and the personnel committee, and Sarah and Rev. Amy met on Sunday with the catechists, children's ministry assistants, youth leaders, and the number of the youth. Sarah and her daughter Frances will be going on the mission trip to Taize. Sarah and I have worked at a very detailed level on which tasks will remain with her, and which will move to an office assistant, and I have ensured that we have the budget (within the currently approved 2023 budget) to cover the new position.
Erika says it is a huge relief for her to now have this out in the open! It is so clear, again and again for us at Grace, that what we need is here.
With gratitude and in Christ's deep peace,
Your Grace Leadership Team!