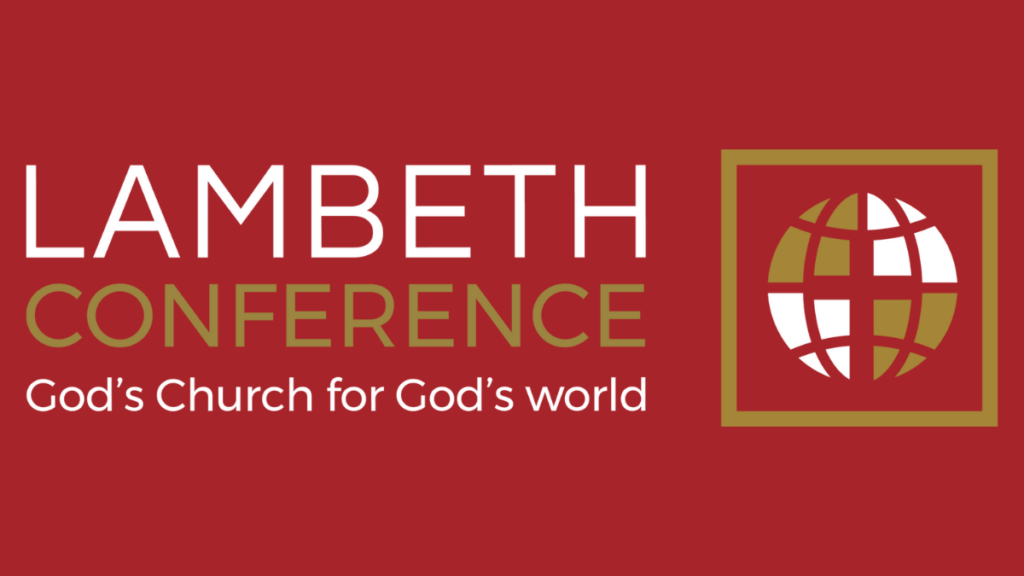 This week we focus our prayers a little more intently on our Bishops. All active Bishop across the Anglican Communion are gathering in Canterbury for the Lambeth Conference. Donna and I enjoyed three weeks in Canterbury for the last Lambeth held in 2008. Traditionally it has been a feature of the Communion every decade or thereabouts since 1867 but slipped off schedule recently by a couple of years due to internal conflict over human sexuality and then the two-year delay of COVID.
It had been a wish of the current Archbishop of Canterbury, Justin Welby, that the invitations to the Lambeth Conference be held up a little while as we worked on becoming more reconciled to each other's differing attitudes to the inclusion of and pastoral ministry to members of our Communion who are gay and lesbian. At the same time, however, human diversity on matters of sexual identity has continued to broaden in the meanwhile, and now the Church recognizes that its pastoral responsibility extends to a much fuller community of LGBTQ persons.
Since 2008, however, much has also changed in the civil societies across the world on our understanding of human sexuality and in The Episcopal Church. In 2015, the General Convention produced trial liturgies for same sex marriage within the Church, just as the Supreme Court was upholding the constitutional rights of same sex couples. Those who strongly disagreed with the Church's action have since created a separate Anglican body within the United States – the North American Anglican Church. And there are those who disagreed and yet have remained within The Episcopal Church where the House of Bishops has worked hard to live together with difference while finding ways to provide for every member of the Church regardless of orientation. Other Provinces across the Communion have also experienced evolving positions about inclusivity, since Lambeth last met.
Unfortunately, the Archbishop of Canterbury's hope for a full participation of active bishops has not been achieved. The Archbishops of Uganda, Kenya, Rwanda and Nigeria have said that they would not be present. It is not clear whether they will be allowing their diocesan bishops to attend. Ironically, in 2008 these same Provinces were absent, though individual diocesan bishops did accept the Archbishop of Canterbury's invitation. The Lambeth Conference is held at the direct invitation of the Archbishop of Canterbury.
As a potential network for good, I have always been excited at the prospect of mutual mission across the globe that the Anglican Communion holds. The focus of this decade's gathering is "God's Church for God's World". Bishops have been preparing by participation in small group bible studies based on the First Letter of Peter, held across the world via zoom. To assist in providing as open a time of prayer and deliberation for the Bishops as they tackle what It means to lead the mission of God deeper into the Twenty-First century, the Conference hopes to issue a series of Calls to the Church, or commitments to particular areas of mission. These calls will cover witness and evangelism, reconciliation, safe church, Anglican identity, human dignity, the environment and sustainable development, Christian unity, interfaith relations, discipleship and science and faith.
It is always good to remind ourselves that the work of Christ is carried out by a great cloud of witnesses, many of whom carry out that witness in situations of great difficulty, such as in conditions of war, famine, poverty, and injustice; and all seek as we do to be faithful responders to the call of Jesus which all of the Lambeth Calls are trying to emulate or express.
Finally, one of the gifts of the gathering is that Bishops make new friends, and these friendships can have profound influences on their home diocese. The more than thirty year companionship between Iowa, Brechin in Scotland, and Eswatini in Southern Africa came from a 1978 bonding of their Bishops at Lambeth. Through this tri-companionship, congregations have forged links over the years, traveling back and forth. Clergy have done exchanges, and Bishops have shared episcopal ministry. We have assisted in the teaching of our clergy, inspired our young adults to greater leadership, held healing services, and encouraged Revivals. One of my last actions as Bishop of Iowa was to produce a Revival on zoom during COVID lockdown in which each Bishop spoke, and choirs from four Cathedrals sang, and testimony of the love of Jesus resounded from around the world.
Pray for Bishop Meghan as she steps forward into this opportunity; and pray for God to open our eyes to the living of  our faith within the cloud of God's diverse witnesses.  
+ Bishop Alan