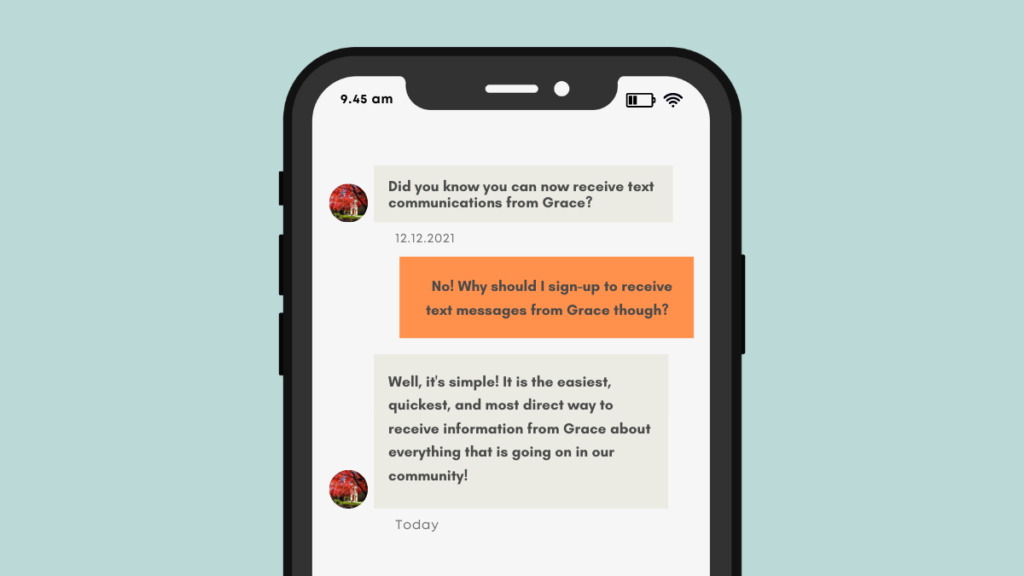 Several weeks ago, we made a small announcement about our Communications team's ongoing work to develop new strategies and avenues for helping everyone in our community stay in the loop about all the exciting and important things happening at Grace! Since then, we have had several people opt-in to receive text messages (aka SMS or short message service) communications for when we implement this aspect of our strategy, but not nearly as many as we would have hoped.
So you may wonder, why text message communications?
Well, I am glad you asked! In today's post/pandemic world, email communication alone is no longer enough. Now more than ever, we as a Church have to work to develop more accessible avenues for communication so that our entire community can stay connected to what's happening here at Grace. We all know how easy it is to let emails overwhelm us and pile up in our inboxes, and that's why text communications are going to play such an important role in the future of our communication strategy.
Text communications will allow us to get important information about events and happenings at Grace to you timely, and directly so you can stay connected! In short, text message communications will also allow us to send important time sensitive information out to our community that is simply not as effectively communicated via email.
So no now you may wonder, why should you specifically opt-in for text message communications?
Well, it's simple! It will be the easiest, quickest, and most direct way to receive information from Grace about everything that is going on in our community!
Frequently Asked Questions
How many texts will I receive from Grace?
That depends, but we don't foresee needing to send over one text a week!
Can I respond to text communications?
Unfortunately, the text messages system we use is a one-way street! If you respond to one of our text message communications, we won't even see it. So if you have questions, be sure to contact the church office!
What kind of information will be communicated?
That will vary, but you can expect to receive texts about major events, important updates, and announcements that will help you stay in the loop!
Can I opt-out of receiving text messages once I sign up?
Absolutely! You can opt-out any time you wish.
How do I sign up?
That is easy! Follow the link in the button below, enter your contact information and respond to the initial text message you receive to finish the process! After that, be sure to save the number in your contacts!
-Ryan Cagle, Communications Coordinator