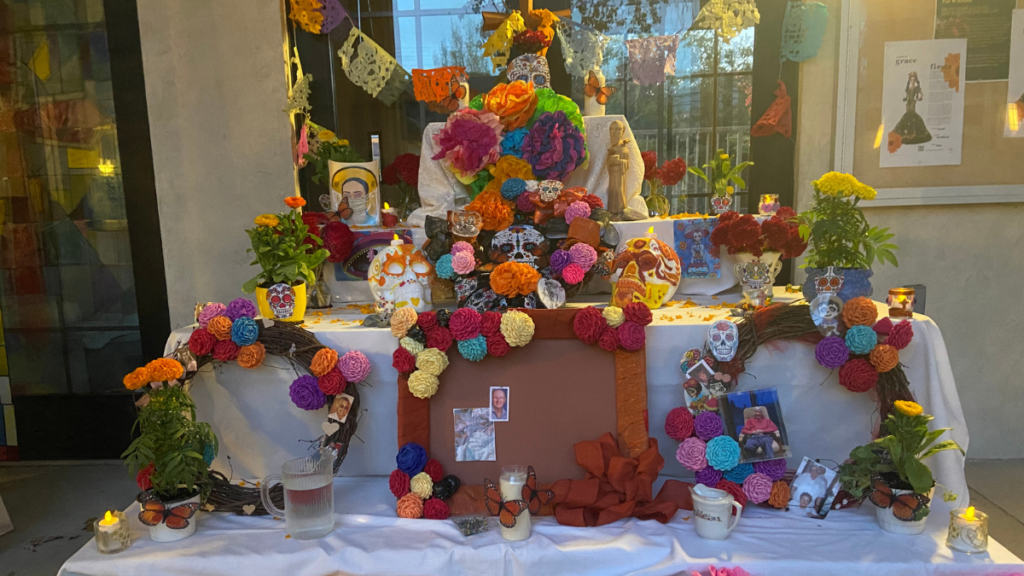 Happy All Souls Day/Día de los Muertos! 
The Latin American celebration of Día de los Muertos combines the Christian feasts of All Saints Day, November 1, when the Church remembers what I call the "Capital S" Saints, and All Souls (today!) when we remember our beloved who have died, and all have gone before us.
All Saints is the fourth most important Christian Feast, after Easter, Christmas, and Pentecost. But the theological idea at its heart is probably one of the lesser-known Christian concepts. So much so that when my sister and I were preparing for our joint bilingual service at Saint Mary's last Saturday, we found we had different understandings of it! The Communion of Saints is that central idea. By the Communion of Saints, we mean the union in one spiritual body of all faithful people of all times and all places.
We had a concrete experience of the Communion of Saints during the pandemic, when we practiced our spiritual union through virtual church, and developed relationships with those who joined us for worship from around the globe. (See this article Robin and I wrote on the Gifts of Virtual Church.) But the fellowship of the Communion of Saints also joins us with all of those who have entered God's nearer presence. This is nowhere more clearly felt than during the Eucharist: as we sing "Holy, Holy, Holy," we join with all of those saints and angels around God's throne; as we receive communion, we are in communion not only with Christ and one another but with the whole Communion of Saints.
Painting calaveras (the decorated skulls typical of Día de los Muertos) for this weekend's party, I thought a lot about my aunt, whose funeral we will be attending on Friday, and all of those whom I love but no longer see. I thought about the gritty reality that their bodies are in fact now skeletons, skulls, dust. And as I painted those plaster skulls with bright colors, flowers hearts, and glitter, I thought about the holy irony of decorating these stark symbols of death with such vibrant signs of life. I realized on a deeper level than ever before, that is the point. In the Communion of Saints, we are joined in a very deep and real way, perhaps the deepest and most real way, with all of those whom we love but see no longer, and all people of faith. The joyful, playful way that Día de los Muertos treats death is a way of saying to death: you do not have the final word. In God, the separation that death represents is a temporary and passing thing. The eternal life in which our loved ones live is also the life in which we are invited to live every day— a life of grace, love, and light.
A blessed Día de los Muertos to you, dear ones. Let's celebrate!
In Christ's deep peace, Amy+